All-on-4® Treatment Concept

Raleigh, NC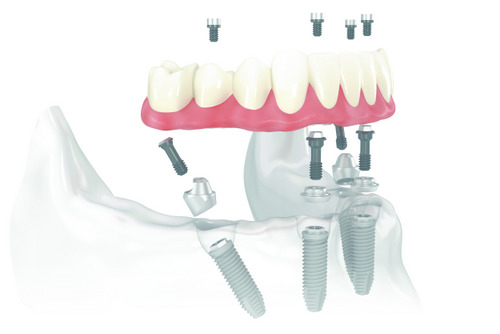 Dental implants are typically recognized to be more effective than other replacement options. However, they come with a set of boundaries that may stop specific individuals from receiving the treatment. If you were told that you are not a candidate for traditional dental implants, then the new All-on-4 Treatment may be the perfect alternative for you. Here at North Hills Implant & Oral Surgery, our experts have adopted the technique and are bringing a beautiful set of new teeth to numerous happy patients already.


What Is an All-on-4 Treatment?

The All-on-4 Treatment involves the use of a fixed prosthesis for your upper and/or lower jaw, usually consisting of up to 14 teeth. The prosthesis is firmly supported by only four implants, which are carefully angled (depending on your current jawbone density and volume) so they can be safely placed - even in patients who suffer from advanced bone loss.

The restoration is made from a screw-shaped titanium root, combined with either acrylic or porcelain synthetic teeth, which look and feel natural. In contrast with conventional dental implants, the procedure is completed significantly faster, there is commonly no bone grafting required, and there are also fewer risks of damaging close structures during the placement.


Would I Benefit from All-on-4?

The All-on-4 Treatment Concept offers a practical solution that almost everyone can enjoy. Still, patients who have experienced significant jawbone resorption or are missing several, if not all of their teeth, will be most benefited by it. Even if your teeth have some degree of decay or cavities, if you preserve plenty of them and they can be restored, it may be preferable to opt for individual dental implants to complete your smile. Before the operation, you will need to schedule a consultation with us to discuss your case and determine which option will be ultimately better.


The Procedure

The surgery is fairly simple, and it usually takes only a few hours. We will first remove the teeth that could interfere with the restoration, then address any infected or diseased gum tissue. After cleaning the area, we will then expose a tiny part of your jawbone and drill a hole. This will allow the implant to be precisely placed at an angle where it will not touch your sinus membrane (in the upper jaw) nor the inferior alveolar nerve (in the lower jaw). We will suture the incisions, then attach a temporary bridge. This will leave you with a nice-looking smile the same day you enter our office.


The Recovery

As the technique is done in just one visit and there is no grafting involved, you should be fully recovered within two weeks. You may experience minimal discomfort, swelling, or bleeding during the first-day post-op, but they will gradually subside. We may prescribe you antibiotics to protect the surgical site from infection and give you instructions on how to keep the area clean. Your jawbone will naturally osseointegrate with the titanium root in three to six months. When that happens, we will replace the temporary bridge with a final, permanent one; made just for you.

If you want to learn more about the All-on-4® Treatment Concept, please contact us North Hills Implant & Oral Surgery at 984-258-2727 today. We will be happy to help you restore your smile with the revolutionary All-on-4 Treatment.