Digital Impressions

Raleigh, NC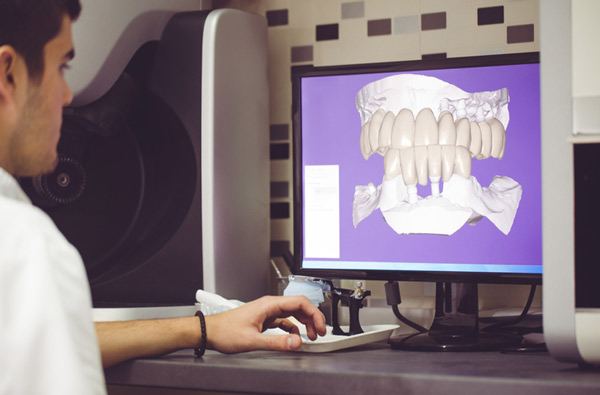 At North Hills Implant & Oral Surgery, our cutting-edge technology allows us to provide a supreme level of care for our patients. For instance, we now offer digital impressions thanks to a revolutionary device known as an intraoral scanner. Digital impressions have some advantages over traditional ones. Traditional impressions involve a material that is often messy, inconvenient, and uncomfortable.


How Do Digital Impressions Work?

The procedure for a digital impression is quick and minimally invasive. During your procedure, Eric Hoverstad, DDS or one of our dental assistants will use an intraoral scanner system, usually a pen-shaped device with a camera at the tip. The scanner is connected with special software that produces your impression.

An intraoral camera takes hundreds of pictures of your mouth, all while you watch on a chairside monitor. Our software then pieces together these images to create a highly accurate, three-dimensional representation of your teeth and gums. The entire process takes anywhere from 45 seconds to a minute and a half!


Why You May Need a Digital Impression

We may recommend a digital impression for a few reasons, some of which include:

| | |
| --- | --- |
| • | Restorative Dentistry: If you have a severely damaged or decayed tooth, you may need a dental crown. A digital impression can help us determine the size and shape of your new restoration with an unmatched level of precision. If you are missing a tooth, a digital impression can also be used to fabricate a fixed bridge or implant-supported crown. |
| • | Orthodontics: A digital impression may also be the easiest and least invasive way to develop an appropriate orthodontic treatment plan. Along with your initial impression, we can use special software to determine the ideal position for each tooth and how they should be moved. Orthodontic treatments like clear aligner trays are more effective and comfortable thanks to digital impressions. |
| • | Diagnosis of Dental Problems: Intraoral scanners allow us to diagnose minor instances of decay, gum disease, and other structural damage that may not be visible to the naked eye. In this way, a digital impression can help us catch problems early on, before they develop into major complications. |
| • | Guided Implant Placement: to complement a CBCT for fabrication of an implant surgical guide. |
Benefits of Digital Impressions

Digital impressions have significantly improved the accuracy and efficiency of diagnosing and correcting many different oral health problems. They can also save you a considerable amount of time in the dental chair, allowing for same-day restorations and faster orthodontic treatment. In many ways, digital impressions are a superior alternative to physical ones, which involve messy and uncomfortable materials.

Digital impressions reduce or eliminate the errors and inaccuracies associated with traditional methods. Your scan will also be stored electronically, making it easier to share with specialists and other dentists if necessary. These scans are also faster than traditional materials, which take time to harden before your impression is complete.


Schedule Your Appointment

Call 984-258-2727 to schedule your appointment or submit request appointment form here today!