Ridge­ Augmentation

Raleigh, NC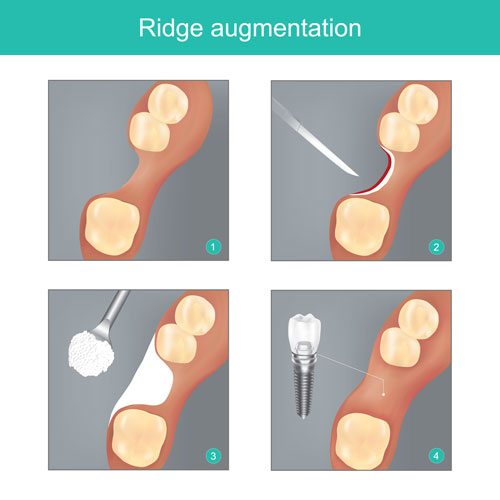 Dental implants are a common procedure in which surgical fixtures are secured to the jawbone. The implants serve to improve oral health, enhance cosmetic appearance, and improve a person's quality of life. Millions of Americans have dental implants, and this number is projected to grow by thousands each year. Despite the popularity of this procedure, not everyone qualifies as a candidate for dental implants. An individual must have sufficient jawbone density to be a recipient of dental implants. Those who do not have a strong enough jawbone structure may have to undergo ridge augmentation, a type of bone grafting surgery, beforehand. If you are looking for a ridge augmentation or are unsure on whether this applies to you, North Hills Implant & Oral Surgery is here to address all your dental needs.


What is Ridge Augmentation and What Is Its Importance?

Ridge Augmentation, also known as ridge preservation, is an oral surgical procedure intended to prevent the alveolar ridge from deteriorating. The alveolar ridge deteriorates following tooth extraction because the empty socket is unable to heal properly. Irregularities in the jaw then occur because removal of a tooth can damage the surrounding bone in the socket. Age can also cause the alveolar ridge to deteriorate, as bone density naturally starts to break down over time. Ridge augmentation will ultimately rebuild the alveolar bone to be stronger, so it is secure enough to support implants. Though the procedure is often not medically imperative, ridge augmentation may be needed for dental implants or cosmetic reasons.


What Is the Process of Ridge Augmentation?

During ridge augmentation, bone graft material is placed inside the tooth socket to fill the empty space. Afterwards, gum tissue is planted on top of the socket and secured using sutures. The sutures serve to minimize postoperative bleeding and assist in quicker healing. The recovery time varies from several months to years, as it is dependent on the patient's health. This process allows the bone to maintain its natural height and width, enabling the patient to feel their best and most authentic self.


Are You a Candidate for Ridge Augmentation?

Candidates for ridge augmentation include individuals who are experiencing jaw atrophy, or jawbone shrinking, following the removal of a tooth. This occurrence would hinder the person's ability to receive dental implants, and it may also negatively impact their jawbone aesthetic. Thus, bone grafting surgery may be necessary for dental or cosmetic reasons. Ideally, a ridge augmentation should occur shortly after the removal of a tooth. If too much time passes before the surgery, a second procedure may be required later.

If you are seeking dental implants but do not have sufficient jawbone density to undergo the procedure, ridge augmentation may be your solution. Ridge augmentation can reconstruct your bone to be sturdy, while also improving the aesthetic of your jaw. Not only will this procedure prepare you for dental implants, but it can boost your confidence and self-esteem as well. If ridge augmentation is a service that you are interested in, our team can help determine if the procedure is right for you. For more information, do not hesitate to contact us here at North Hills Implant & Oral Surgery at 984-258-2727 today.